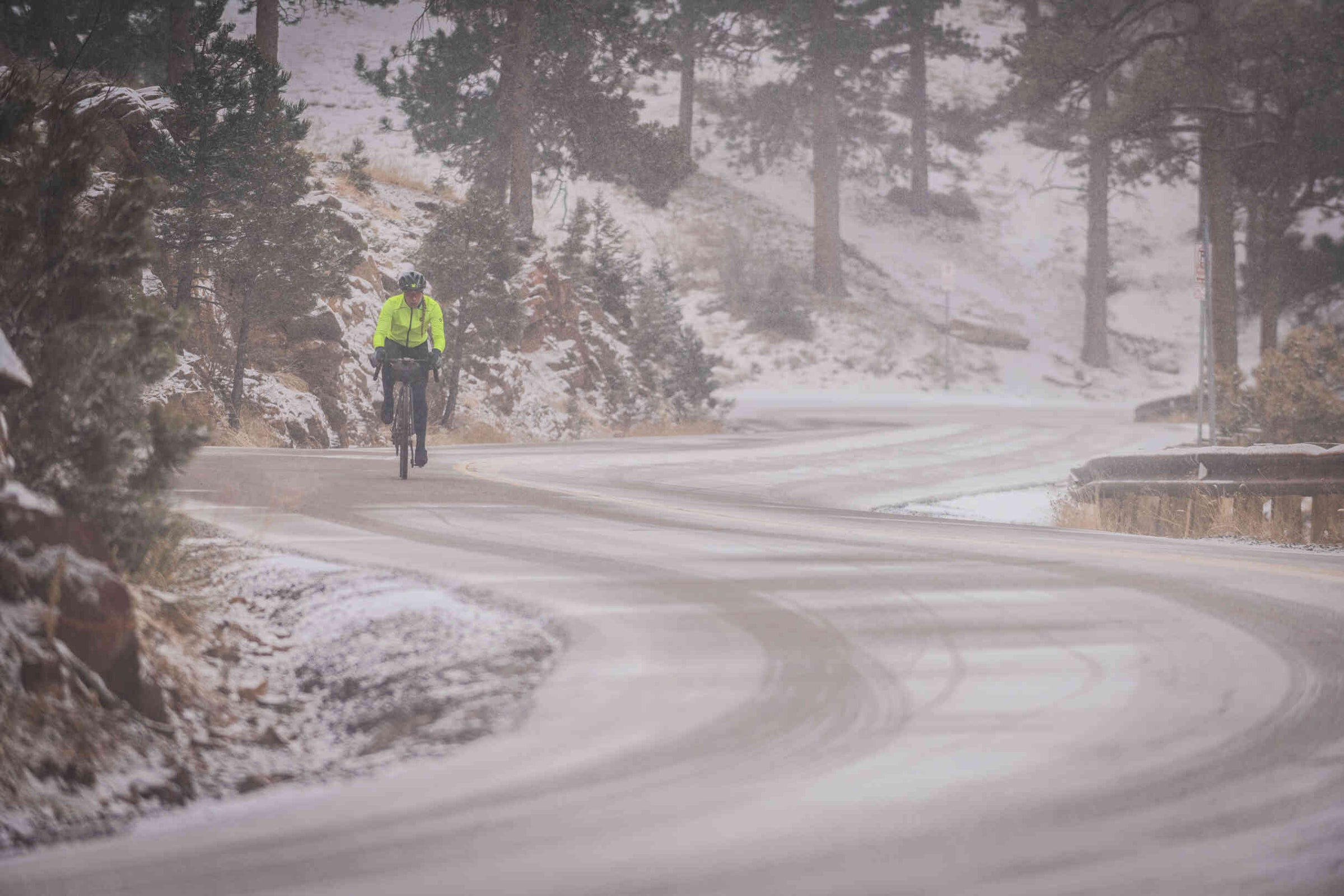 LAYERING FOR
FRIGID WEATHER
EXTREME WEATHER PROTECTION
The Vertex WX-D Collection provides the ultimate protection against brutal conditions and temperatures between 0° - 40°F.
Just because temps are below 40° F, doesn't mean you need to layer up like Ralphie's brother in the movie A Christmas Story.
Excessive layers only elevate body temperature, which leads to increased perspiration and an increased body chill in wind or times of reduced effort.
WINTER BASE LAYERS
With the proper jacket, you can skip a jersey and go with just a base layer, even in extreme cold.
We recommend any of our winter base layers.
The Thermoregulator is made with Dryarn®, not only the lightest textile fabric in the world but is exceptionally efficient at pushing away moisutre away from the skin. This helps keep you warm and dry without feeling bulky or heavy. Available in both short sleeve and long sleeve.
Designed with recycled Polartec® Alpha Direct insulation, the Alpha Core SL Base Layer dries quickly, but maintains warmth even when wet. The combination of Alpha insulation and mesh provides a warm but breathable base layer great for any cold weather kit.
WINTER BIB TIGHTS
Ideally Winter tights should be wind and water resistant and designed specifically to ward off cold rain, sleet, and snowy conditions.
We recommend our Vertex WX-D Bib Tight.
Rigorously tested in Colorado's harsh weather, this bib tight is ideal for frigid, winter conditions with temperatures between 0° - 40°F. A brushed fleece interior and a Durable Water Repellent (DWR-coated) exterior keeps you warm and dry in the wind, rain, sleet, and snow. Ankle zippers allow for ease in putting these tights on or taking them off, while minimal uppers reduces bulk under winter layers.
Reflective logos and strips on the back of the calves increase safety and visibility in low-light conditions.
Our Women's Vertex WX-D Bib Tights have been designed with our Clip&Pit™ technology for easy nature breaks.
WINTER JACKETS
The proper jacket for extreme cold needs to be engineered with fabric combinations that block chill while ensuring the retainment of interior warmth.
We recommend our Vertex WX-D Jacket.
A foul weather staple in our collection for years, the Vertex WX-D Jacket is perfect for riders who put in the miles in the worst conditions. This jacket includes a highly weather resistant shell with (Storm+ Laminate), and highly breathable, quick-drying Polartec Alpha Direct insulation.
No matter how cold it is outside, if you're sweating in your jacket the minute you stop you will begin to get chilled due to build-up of moisture vapor. Two water-tight zippers on the sides and a vent on the back just below the neck, allow for better airflow to keep you dry.
"Pactimo has a relatively simple plan to handle temperatures between zero and 45 degreees Fahrenheit, and it actually involves very little layering. Up top, Pactimo recommends a very warm base layer-like their High Grade Wool or Thermoregulator-matched to a really warm jacket with zippered vents, like the Vertex WX-D. And that's it. No jersey. If this feels a bit warm, go with a lighter base layer. As you warm up while riding, open your jackets zippers to drop head and you won't need to worry about shedding layers."

WINTER GLOVES
Nothing will be as important to your lasting comfort in extreme cold as a good pair of gloves.
We recommend our Vertex WX-D Gloves.
These gloves feature our proprietary WX-D weather defense seal and are perfect for wet cool and cold temps between 20º - 40ºF. Touchscreen compatibility allows phone usage without having to remove the glove, while a synthetic palm and grippy touch points make for easy manipulation of shifters and breaks. For added safety, the reflective print across the back increases visibility in low-light conditions.
Layering for Frigid Weather
---