Overtraining can happen to anyone who is not building enough recovery time into their intense racing and training regime.
By: Jennifer Sharp, ALP Cycles Coaching
"How many of you have overtrained?"  asked Dr. San Millan to a room full of 25 coaches and athletes.
Every single person raised their hand.
Everyone, at some point in their athletic lives, will overtrain. In the summer time it's easy to throw in extra mileage even though you've done 15 hours of riding that week and it's only Friday - what's the harm? And while it's ok to pile on the extra miles every once in a while, making a habit of it means you'll eventually find out why rest days are super important. And that lesson could cost you a week, a month, a season or a full year. 
FACT: CYCLING IS PAINFUL. YOU FREQUENTLY PUSH YOUR BODY TO EXTREMES AND KEEP GOING.
Myth: Overtraining only happens to professionals.
FACT: OVERTRAINING CAN HAPPEN TO ANYONE WHO IS NOT BUILDING ENOUGH RECOVERY INTO THEIR INTENSE RACING AND TRAINING REGIME.
Myth: Overtraining is curable in a few days.
FACT: OVERTRAINING CAUSES NEUROLOGICAL, MENTAL, HORMONAL, EMOTIONAL AND NUTRITIONAL IMBALANCES AND THE EFFECTS CAN BE LONG REACHING.
It's actually pretty easy to over train. We're bombarded with TSS and CTL and ATL charts and graphs. We're obsessed with tracking our upward growth and it's hard to not be a slave to a performance manager chart. We get used to pushing through pain. But what those CTL's, ATL's, TSS's and TSB's don't show in flashing red lights: "CAUTION - OVER TRAINING AHEAD" until it's too late.
Can you tell when an athlete is prone to overtraining?
As coaches, we're constantly monitoring our athletes data. Thankfully power coupled with heart rate data can paint a picture of that individual athlete's reaction to training stimulus on a daily basis. We watch for trends and see if we can explain patterns. And we're also reliant on our athlete's feedback to clue us into things we may have missed on first glance. Like decoupling of the heart rate,  lack of motivation, stress, insomnia, or mood swings. All of these factors come into play for each individual in their own unique way. Unfortunately in regard to overtraining, there's no one specific marker that is the cause. Rather it's a combination of factors.
So, how do you track different metrics to see if you're headed down the path of overtraining?
One suggestion is to do a blood test in the offseason to obtain a baseline measurement. You could include this into your annual physical requesting your hematology, biochemical and hormonal markers. Then about  1-1.5 months prior to your peak event, do another test. Have a trained professional compare the results and determine if you should back things off if needed or continue the training as prescribed. 
Another cheaper method of tracking is through daily monitoring of your resting heart rate. You can expect to see a 5% fluctuation from day to day heart rate but anything above or below that could be a sign of overtraining. If you see a big outlier in your heart rate, play it safe and smart and call it a day.
How do you avoid overtraining in the first place?
First of all, listen to your body. If you're tired, rest. Use a heart rate monitor, as mentioned above, to track your resting heart rate.  You can use the metrics portion of TrainingPeaks to log your sleep quality, overall feeling, soreness, menstruation, fatigue, weight and more. Use it! Eat a well balanced diet and stay on top of hydration. If you have a prescribed off day - take it. It pays to train smarter, not harder. 
Metrics located in TrainingPeaks are a great way to track various markers that paint a clearer picture of your coach. 
. . . . . . . . . . . . . . . .
ABOUT JENNIFER SHARP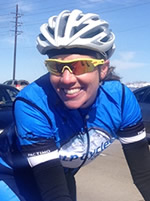 Jennifer Sharp, a USA Cycling Level 1 Coach, started racing in 2004 as a means to fulfill her competitive itch. Previously a national level boxer, she grew tired of getting hit in the head and decided to pound the pedals instead. She bought a pink Kona road bike completing several recreational rides and found herself passing as many people as possible. Since then she has multiple podiums at elite track national championships, master track national championship titles and world cup finishes under her belt.
Jennifer, a Seattle native, joins the ALP Cycles Coaching with a background in road and track. Her experience as a USA ParaCycling team tandem pilot, part-time work at USA Cycling in the Coaching Education Department and love for all things cycling is a welcomed addition to the ALP Cycles Coaching team.
About ALP Cycles Coaching
ALP Cycles Coaching is located in the mountains of Colorado, and is a cycling coaching company with over 25 years of professional sports experience. ALP Cycles Coaching is unique in that we have 4 coaches, Alison Powers, Jennifer Triplett, and Patricia Schwager who each brings her own coaching strengths and personal experiences. We work together to create a training plan that works for each and every person. Visit them online at http://alpcyclescoaching.com
---