Range Trail
For Singletrack
MTB & Off-Road - Product Feature
The Lightweight and Super-Breathable Range Trail MTB Collection has been Developed to Perform Exceptionally Well in a Variety of Conditions.
Whether climbing, descending, or bombing along on some singletrack, we wanted to develop garments that could be paired with our without a hydration pack and would provide lasting comfort on any trail attacking adventures.
Tailored For the Riding Position, the Range Trail Lite Tee Delivers a Casual Fit Without the Bulk of Extra material.
Featuring recycled materials, the core fabric is both highly breathable and mesh-like, maintaining durability for regular off-road adventures.
Hexagonal recycled mesh inserts under the arms enhance breathability, while the collar remains minimal and unobtrusive. The dropped hem provides ample coverage when riding.
Our Range Trail Lite Shorts are Designed with Performance-Driven Minimalism in Mind.
Whether you are picking lines through a technical rock garden, screaming through the trees, or taking in all that a singletrack has to offer, you'll want to look good, feel comfortable, and be unhindered by your clothing.
Building on the success of our Tellus Short, the Range Trail Lite Shorts are designed for riders who crave a shell short that is ultra-lightweight, incredibly stretchy, breathable, and resistant to water.
These thoughtfully engineered garments featuring recycled materials, offer optimal protection, storage, and comfort, all while maintaining a nearly imperceptible weight.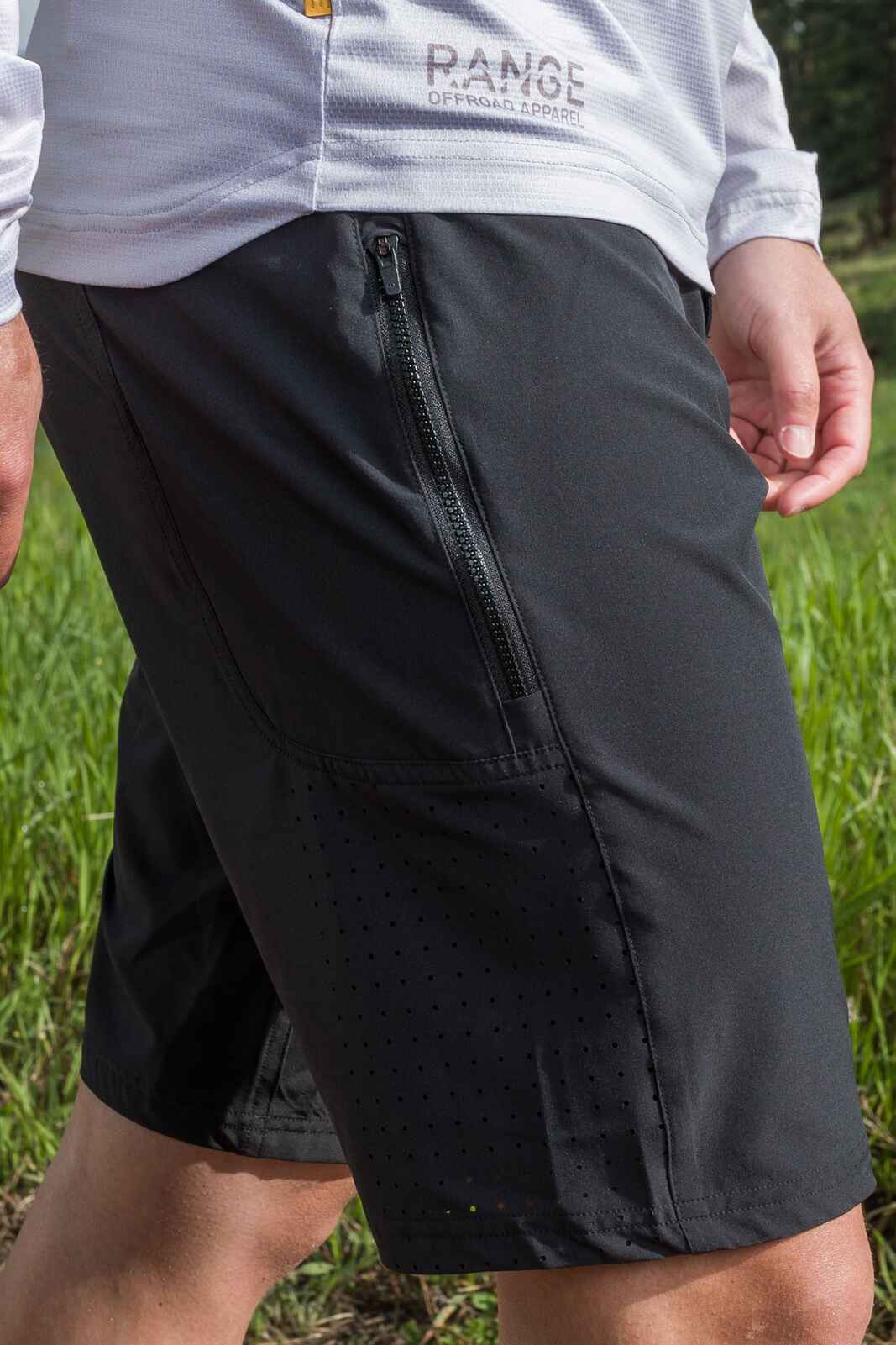 Our Range Trail Lite Short is Incredibly Lightweight and Designed with Performance-Driven Minimalism in Mind.
The snap/zip fly and integrated adjustable belt is more secure and robust than ever.
Two on-bike oriented side pockets provide ample storage, with an internal elasticated pocket for smaller items and organization.
Our Range Trail Bib Liner and Short Liner Provide Added Comfort
The Range Trail Bib Short Liner is the latest evolution of our popular Tellus Bib Short Liner, surpassing it's predecessor in numerous ways. This latest iteration offers a host of improvements featuring an enhanced chamois, improved pocket layout and design, and more comfortable uppers.
Three pockets on the middle back, including a zippered key/card pocket, provide ample storage for a water bottle and other ride essentials. These pockets sit just about the Range Trail Short waistline for perfect compatibility and maximum storage options.
Borrowed from our highest end bib short, the Force chamois is a perfect blend of dense, comfortable padding and minimal footprint for all-day adventures.
Our Range Trail Short Liner has two pockets, one on each leg that provide sufficient storage for cards, keys, or any other trail essentials. Located just about the leg band, your items are still accessible under your shell while being held close to your body to reduce bounce and discomfort.
Both liners utilize a combination of ultralight recycled Nylon warp-knit in high-wear areas and ultralight, soft recycled mesh in the legs and waist.
★★★★★

Pactimo took the Tellus shorts and turned it up a notch. Very lightweight, and breathes well. Excellent fit.

James S.
★★★★★

Super Lightweight, very comfortable yet durable shorts. Wore in an enduro race and they survived a crash without any rips or tears. Very happy with these shorts.

William J.
★★★★★

Love the fit and feel of these bib liners and they work great with the Range Trail shorts. Nice upgrade from the previous Tellus bib liner.

Henry H.
★★★★★

It's light and breathes! I rode it in 90s weather and high humidity. felt comfortable. [Range Trail Bib Liner]

Denise V.
★★★★★

This is a highly breathable, very lightweight jersey with a relaxed (but not loose) fit. It's very comfortable and exactly what you want on a hot summer day out shredding.

Kevin E.
★★★★★

As an adventure racer, I am always looking for items to help me stay comfy and functional for long periods. I spent 8 hours biking and bushwacking on a training day and had zero issues with my new purchase. [Range Trail Lite Tee]

Michael B.