zoned fabric placements for maximum protection
Stretchy and soft Storm+ thermal fleece in the hip and knee flex-points, paired with a 3-layer waterproof fabric in areas which require more coverage (low-back and wet-out areas surrounding the chamois), ensures maximum mobility and wet weather protection.
Minimal Uppers
Minimal uppers and waist girdle are made from a durable, single layer, raw-edge cut fabric to reduce bulk and increase breathability so moisture will transfer away off the body. This means you can stay comfortable throughout your cold weather adventure. 
Superior Italian Chamois
Intended for ultracycling and extra-long distance rides, Road Performance Force is Elastic Interface®'s newest cycling pad. Its design is developed for male anatomy with a central channel improving blood flow and reducing pressure and numbness. 
learn more
Extra Protection where it counts
Strategically placed, 3-layer waterproof fabric in areas which require more coverage, such as the low-back and wet-out areas surrounding the chamois, ensures maximum mobility while preventing that cold, soggy chamois feeling you can get from wet rides.
pair with
Storm+ Jerseys & Accessories
Water literally rolls off thanks to the bluesign® environmentally friendly, DWR (durable water repellent) finished stretch fabric.
Customer Reviews
Write a Review
Ask a Question
Filter Reviews:
bibs
Colorado
ride
rain
membrane
value
tights
legs
warm
chamois
04/15/2021
Patricio N.

United States
Thermal Bib Tight
My experience with those bibs has been really very good
03/22/2021
Stephen D.

United States
Storm+Thermal Bib Tight
Easy and a good value. These tights are warm and non-restrictive when riding. Good in the upper 30"s and wind resistant.
02/21/2021
Vladislav L.

United States
Get these!
When I received these tights I was dubious. I just didn't understand how they could be thermal AND waterproof. They aren't overtly thick or fleecy, or have an external waterproof membrane. When I put them on, I had more doubts. The tights felt thin and cool. I went out there at 5:00 am in 40-degree weather figuring I was going to climb a lot, so I would not need truly thermal tights. Maybe I didn't need thermal tights for the climbs, but descending canyons at 40mph, as temperatures dropped toward freezing, the tights really shined. Indeed, they are ideally thermal — I was never cold or too warm. A week later, I went out for a 2-hour ride in the rain. My head got wet, my hands and feet got wet and cold, but my legs were again at Goldilocks-perfect level of warmth and dryness. An excellent pair of tights. Get yourself a pair.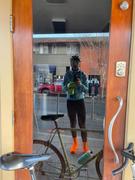 02/11/2021
Scott J.

United States
AwesomeThermal Bibs
When I received my thermal storm thermal bibs, I didn't think they would fit. Once I tried them on they fit perfectly. They actually keep me warm on my rides. Very pleased with the purchased
02/03/2021
Rene D.

United States
Another big hit from Pactimo
I had a couple of rides with this bib it held up very well during a morning ride 37 degrees no wind resulted in a comfortable ride. Thank you Pactimo keep up the good work!!!
01/07/2021
Dan Z.

United States
Almost perfect
Great quality and warm for those fall/ late spring rides in Colorado. One thing that is missing is a pocket of some sort! Otherwise amazing value.
01/06/2021
Ming K.

United States
Good with some caveats
First, the good: These fit well and are very comfortable. I particularly like the upper straps/braces and the stretchy ankle cuffs that are snug yet still easy to don and doff without requiring zippers. The chamois is also very comfy albeit rather chunky, which is strange since it's the same one used in the Summit Strike bibs which are among my very favorites. Now, the caveats: these are advertised as good down to 30F, which may be fine for the dry and sunny Colorado climate, or if you're doing max effort hill repeats, but doubtful for the often damp and windy climate here in the Pacific NW where I live. I'd say it's good down to the low 40s or high 30s, tops. And my biggest gripe: the waterproof membrane only covers the middle and rear portions of the seat area, and neglects the very-exposed front of the chamois. Tonight's commute home was 25 mins in a steady rain and while the rest of the bibtights stayed mostly dry, the front of the chamois was soaked. I hope Pactimo fixes this in the next version with a true, fully protected chamois region, otherwise I can only recommend these bibs for brief showers or light drizzles.
01/04/2021
Angel L.

United States
Comfortable and Warm
100% Recommended
01/02/2021
Brent S.

United States
Comfort & Quality
Love these bibs. Great for all my should season gravel riding.
12/29/2020
Huck G.

United States
Love Love Love!
Wore them through a rainstorm. Worked perfectly. :)