Surround yourself with people you look up to and that are positive.
by Jennifer Sharp, ALP Cycles Coaching
When I first started racing a decade ago, cyclingnews.com had a section in their website dedicated to mental training. I gravitated to this section more than tech reviews or race results – I wanted to know what I could do to train my mind to become a champion.
Since discovering a love and passion for all things sport psychology related, my bookshelves and mind are filled with mental tools I'd like to share. Below are a few tips to help you step it up this coming season and prepare for any goals you may have.
Surround yourself with positive people and those you admire. We all have cycling heroes, both locally and abroad. I'm fortunate to work with Alison Powers, the only person in history to win all three USA National Championships in one year and who has mastered teaching technical skills. I learn something new every time I'm around her. What I admire most is that she's upbeat, positive and loves to teach. Here demeanor has a positive impact on how I approach coaching and training. Surround yourself with people you look up to and that are positive.
Observe habits and ask questions. What is it about successful riders that put them ahead of the rest? What do they do in their down time? What are they reading? How often do they drink while on the bike? What do they do for their mental training? Try some of their habits on for size and see which ones work for you.
Find a mentor. Or two. Or three. Mentoring is a personal development relationship in which a more experienced/knowledgeable person helps guide a less experienced/knowledgeable person. Having multiple mentors can help broaden your knowledge. A mentor is different than a coach since it is relationship based verses task oriented. You hire a cycling coach to get better at cycling. And a mentor can shed some light on cycling but also focuses on the bigger picture.
Branch out. Be open to other learning opportunities such as other sports. Broadening your perspectives can open up new ways of thinking and approaches. Try looking into tennis, golf, basketball, or even Formula One to get a grasp of high performance. People are doing incredible things in all areas of life – don't limit yourself to just learning from cyclists. Study the greats and you can learn new insights. If you want to step things up this next season, look to those who inspire and motivate you to figure out what they're doing right and implement it in your mental training. Greatness awaits!
. . . . . . . . . . . . . . . .
ABOUT JENNIFER SHARP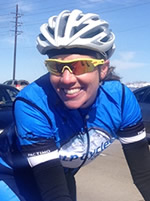 Jennifer Sharp, a USA Cycling Level 1 Coach, started racing in 2004 as a means to fulfill her competitive itch. Previously a national level boxer, she grew tired of getting hit in the head and decided to pound the pedals instead. She bought a pink Kona road bike completing several recreational rides and found herself passing as many people as possible. Since then she has multiple podiums at elite track national championships, master track national championship titles and world cup finishes under her belt.
Jennifer, a Seattle native, joins the ALP Cycles Coaching with a background in road and track. Her experience as a USA ParaCycling team tandem pilot, part-time work at USA Cycling in the Coaching Education Department and love for all things cycling is a welcomed addition to the ALP Cycles Coaching team.
About ALP Cycles Coaching
ALP Cycles Coaching is located in the mountains of Colorado, and is a cycling coaching company with over 25 years of professional sports experience. ALP Cycles Coaching is unique in that we have 4 coaches, Alison Powers, Jennifer Triplett, and Patricia Schwager who each brings her own coaching strengths and personal experiences. We work together to create a training plan that works for each and every person. Visit them online at http://alpcyclescoaching.com
---