The benefits of sleep are many: recovery, repair and rebuild of muscles, neurofunction, injury avoidance, increased response time, etc.
By: Jennifer Sharp, ALP Cycles Coaching
We've become obsessed with data and athletic performance: watts/kilo, time spent in specific zones, nutrition, strength training and conditioning - yet very little emphasis is placed on the importance of sleep as a means to optimize athletic performance. You work hard at hitting your numbers during interval workouts, gaining strength at the gym, logging your every move - but are you sabotaging your efforts by not getting enough sleep? 
The benefits of sleep are many: recovery, repair and rebuild of muscles, neurofunciton, injury avoidance, increased response time, etc. Reducing the amount of time you spend sleeping can have a big (and negative) impact on your training. Want to increase the quality and amount of sleep you're getting each night? Try the following methods:
- Sleep rituals. Brushing your teeth, putting on your pajama's, making a cup of herbal tea before bed, etc. all are ways to unwind from the day so start by setting your own ritual around going to bed. 
- Turn off electronics. Roughly 1-2 hours prior to getting into bed, shut off your phone, tablet, computer or other electronic devices. Our thoughts can keep us up late into the night and illuminating your face with an electronic screen can mess with your melatonin.
- Regular sleep time. Make an effort to go to bed at the same time each night and wake up at the same time each day.
- Sleep in a cave. Or darken your room. Make sure it's cool too (as in temperature). Get rid of any lights (digital alarm clocks, night lights, etc) and use black out shades if possible. The darker and cooler the cave, the better. 
- Avoid caffeine, especially after noon. 
- Avoid hyper-hydration. Drink too much right before bed and you may find yourself waking up frequently to urinate. 
- Read before bed, but nothing too stimulating. And yes, I'm talking old school hard/soft cover books (remember no electronic screens!). 
Improve your length of sleep and you'll see improvements in performance. A study conducted in 2008 on a group of healthy student swimmers extended their sleep to 10 hours per day for six to seven weeks concluded that "athletes across all sports can greatly benefit from extra sleep and gain the additional competitive edge to perform at their highest level." (For details on the study, click here.)
Want to read more about the benefits of sleep and how to fall back to sleep before competition? Check out the following links:
http://ylmsportscience.blogspot.com/2015/05/recovery-how-does-sleep-loss-influence.html?q=sleep
http://ylmsportscience.blogspot.com/2016/07/recovery-recommendations-for-improving.html?q=sleep
http://ylmsportscience.blogspot.com/2014/09/many-athletes-report-worse-sleep-in.html?q=sleep
Here's to a good nights rest and quality training!
PS - Join us in Tucson this January 23-29, 2017 for our annual training camp! More details can be found here. 
. . . . . . . . . . . . . . . .
ABOUT JENNIFER SHARP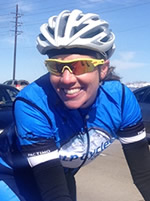 Jennifer Sharp, a USA Cycling Level 1 Coach, started racing in 2004 as a means to fulfill her competitive itch. Previously a national level boxer, she grew tired of getting hit in the head and decided to pound the pedals instead. She bought a pink Kona road bike completing several recreational rides and found herself passing as many people as possible. Since then she has multiple podiums at elite track national championships, master track national championship titles and world cup finishes under her belt.
Jennifer, a Seattle native, joins the ALP Cycles Coaching with a background in road and track. Her experience as a USA ParaCycling team tandem pilot, part-time work at USA Cycling in the Coaching Education Department and love for all things cycling is a welcomed addition to the ALP Cycles Coaching team.
About ALP Cycles Coaching
ALP Cycles Coaching is located in the mountains of Colorado, and is a cycling coaching company with over 25 years of professional sports experience. ALP Cycles Coaching is unique in that we have 4 coaches, Alison Powers, Jennifer Triplett, and Patricia Schwager who each brings her own coaching strengths and personal experiences. We work together to create a training plan that works for each and every person. Visit them online at http://alpcyclescoaching.com
---