If you accept the pain and use practiced tools to mitigate it, you can set yourself up for success.
by Jennifer Sharp, ALP Cycles Coaching
Last month, Alison and I attended the TrainingPeaks Endurance Coaching Summit held at Colorado University in Boulder. The Summit brought together over 150 coaches, physiologists, businesses and thought leaders based in the field of endurance sports. During the break out sessions, attendees could choose between different lectures, depending on their interest. While there, I attended Carrie Cheadle's The Psychology of Suffering lecture. Carrie is a certified consultant through the Association for Applied Sports Psychology and is passionate about educating others on sports psychology. The following are my observations from her talk, broken into three parts (Part 2 is below).
The psychology of suffering is complex because it is a subjective experience. Fatigue is a limiter, as is our expectations, which affect our behavior. We also fear pain and can be afraid to burn our matches and always hold something back, preventing us from performing at our potential. 
There's good news! You can increase your pain threshold by using some mental training tools. In part 2, I discussed five tools you can use to overcome pain. Acceptance, having a race goal, relaxation, choosing your focus and establishing an end are all ways you can mitigate pain when the going gets tough.
And by now, you've probably figured out that your perception of pain affects your tolerance of it. If you frame pain in a positive light, that pain is your friend, you'll likely be able to tolerate much more of it.
So how do you do that?
You can train your mind to tolerate more pain by pushing just past the point of when you're supposed to stop and keep going, which sends a message to your brain to move beyond that perceived limiter. The next time your coach prescribes intervals, do one more and send the message to your brain that no, you're not going to die from discomfort and pain but that you'll survive and be stronger for it.
If you practice this in training, you'll be able to use it in racing. Planning how you'll behave in certain situations can set you up for success when it comes down to a race scenario.
Do be aware though – sometimes pain is not always mental. Hydration, nutrition, and your preparation for an event can also play a role. Working with an ALP Cycles Coach can lessen the learning curve but the mental training portion is ultimately up to you.
Imagine you have a challenging race coming up. It's hilly, it's fast, and it has technical sections with tight corners and speed. You know that the course will push you to your limit and demand 100% of your ability. Your expectation of suffering will lay the road for your experience. However, if you accept the pain and use practiced tools to mitigate it, you can set yourself up for success.
Suddenly, suffering becomes part of the reward.
Interested in learning more about the mental component of sport psychology? Pick up a copy of "On Top of Your Game," by Carrie Cheadle.
. . . . . . . . . . . . . . . .
ABOUT JENNIFER SHARP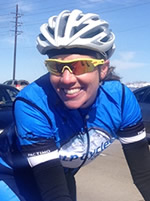 Jennifer Sharp, a USA Cycling Level 1 Coach, started racing in 2004 as a means to fulfill her competitive itch. Previously a national level boxer, she grew tired of getting hit in the head and decided to pound the pedals instead. She bought a pink Kona road bike completing several recreational rides and found herself passing as many people as possible. Since then she has multiple podiums at elite track national championships, master track national championship titles and world cup finishes under her belt.
Jennifer, a Seattle native, joins the ALP Cycles Coaching with a background in road and track. Her experience as a USA ParaCycling team tandem pilot, part-time work at USA Cycling in the Coaching Education Department and love for all things cycling is a welcomed addition to the ALP Cycles Coaching team.
About ALP Cycles Coaching
ALP Cycles Coaching is located in the mountains of Colorado, and is a cycling coaching company with over 25 years of professional sports experience. ALP Cycles Coaching is unique in that we have 4 coaches, Alison Powers, Jennifer Triplett, and Patricia Schwager who each brings her own coaching strengths and personal experiences. We work together to create a training plan that works for each and every person. Visit them online at http://alpcyclescoaching.com
---