"...it's important to realize what you need to perform your best and to be able to repeat it at each competition."
by Alison Powers, Patricia Schwager, & Jennifer Sharp - ALP Cycles Coaching
In order to reach peak performance during competition, our bodies and minds need to be prepared and ready. What goes on between our ears leading up to the competition and during competition can make or break the result. 
Last week, ALP Coach, Jennifer Sharp wrote about the importance of having a solid mental game leading into a big event. She described the things she worked on and prepared for in order to win a World Track Championship. All of her preparation lead her to having an ideal Head Space during competition. What makes race day "Head Space" so interesting is that it's different for everyone. Some athletes like to be quiet and focus on the start line while others prefer to chitchat with teammates or the competition for distraction. No matter where you fall between being focused on chitchatting, it's important to realize what you need to perform your best and to be able to repeat it at each competition.
Here are 3 opinions on race day Head Space and how it was achieved day in and day out.
Being in The Zone by Alison Powers
I grew up ski racing and as a ski racer, my mental game had to be strong. Our races were rarely longer than 95sec, and with speeds with an injury. During a race run, there was no time to think about anything other than executing a great run any distracting or negative thoughts could send you into the fence. Because of this, a lot of my time training was spent on mental training learning to find and stay in The Zone - "Being in the flow is arguably the most perfect state to work from. It is a state where your awareness of time almost disappears and you are one with what you do. Although this perfect harmony usually feels effortless, it is the mental state where we produce our greatest results. So you could say flow is the state where peak performance happens. If we could willingly get into The Zone, or flow state as it's also called, especially among athletes, we could use this great state anytime we would want to produce something outstanding." MyrkoThum
I brought this intense focus and mental game to bike racing. I would memorize every race course and/or critical moment of a race (positioning going into a climb, last 4 laps of a criterium, the final sprint, technical corners and descents, etc) and, in my Zone head space, I could execute what needed to be done for either the team or for myself. It didn't matter how my body felt or how tired my legs were. In the Zone state, I could read the race, execute the team plan, and it seemed effortless and easy.
Now that my bike racing career is over, I can look back and honestly say my ability to achieve The Zone or Flow mental state while racing was my biggest strength. I know this because races where the Zone was fleeting, I was too.
Head space on race day by Patricia Schwager
Here are my experiences with getting into the zone or right Head Space for race day:
First of all, this is something very individual. Just because a certain routine works great for athlete X doesn't mean it will also work for athlete Y. Some athletes prefer to listen to music and complete their own warm-up routine, others like the company and talking/joking around with teammates, staff and other athletes. Still the goal for every athlete is the same: to get focused for the upcoming race and to be ready to perform. Ideally you are excited but not too nervous. You should know the race course and the team tactics/plan (or your own plan if you are racing alone). Whenever possible you have ridden the race course in training or warm-up and you know exactly where the difficult, hard parts will be. Now, it isn't always possible to recon the entire race course but if you don't have the chance to pre-ride then you still can be well prepared with looking at maps, profiles, videos, etc. 
Personally, I preferred to have my own routine for time trials. I made sure to know the race course, I had my own map where I added personal notes about the course. I followed my own routine with a warm-up program on the trainer and I had a music playlist that was exactly the length of my trainer warm-up. After completing my warm-up, I made sure that there was time included for one last bathroom stop, to put on my aero helmet etc. and to be at the start in time. Doing my usual warm-up routine would calm my nerves and it was the perfect way to build up my focus for the TT. I tried to avoid any stress or influence from other things around me because that would make me lose my focus. For road races on the other hand, I liked to do a warm-up ride with my teammates, to pre-ride the final few KM's of the race course (if possible) and to chat. It helped me to not overthink things and to stay calm. 
It takes practice to find your own routine and to find out what works best. Try different routines and see which one helps you best to find your way into the zone or right head space. If you need help or advice, ask your coach...all 3 ALP Cycles Coaches have plenty of experience to share! :)
Focusing on the Process by Jennifer Sharp
I love racing. A lot. For as long as I've been racing, I race roughly 60 times a year in both road and track. There's something about pinning on a number and bringing your best on that day that has me well into my second decade of racing.
I've found my best performances occur when I dial in the details the night before: organizing my race bag with the essentials I need, figuring out the logistics of where and when I need to be at the race venue, and organizing and timing of food, hydration and recovery. I know that I prefer to be at the race 90 minutes beforehand so I can pick up my number, pin it, get a good warmup in, and show up to the line. I toe to the line confident in my preparation and training, knowing that the hay is in the barn and all I have to do is race my bike. Having those details squared away really allows me to be in the moment.
I love racing at national events where the National anthem is played right before the start whistle sounds. It gives me a moment to reflect on how fortunate I am to live in a place where I can race my bike with my friends and against great competition. Gratitude calms me down before going into battle and trying to rip my own legs off. Once that whistle blows, I know it's business time and I'm ready to live in each moment, work my way to the front and stay there.
Mental Training should be part of your normal training routine. Work and practice at dialing in your own race day head space. 
ABOUT PATRICIA SCHWAGER
Patricia Schwager began cycling in 1998, racing as a junior. After racing on the domestic level and completing her Diploma as Pastry Chef, she got her first pro contract in 2006. 2015 will be here 10th year of professional racing. Patricia has a lot of experience racing in the European peloton. In 2013 she started working with Shawn Heidgen (Current ALP Cycles Coach) as her personal coach. In 2014 she changed her focus to racing in the US. Patricia is a 6 time national Swiss champion and has represented her home country, Switzerland, at the World Championships 12 times.
For 2015, Patricia will race for Team Tibco. Along with racing she's looking to share and pass on her knowledge in her new role as an ALP Cycles Coach. Visit her online at http://patriciaschwager.com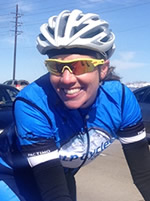 Jennifer Sharp, a USA Cycling Level 1 Coach, started racing in 2004 as a means to fulfill her competitive itch. Previously a national level boxer, she grew tired of getting hit in the head and decided to pound the pedals instead. She bought a pink Kona road bike completing several recreational rides and found herself passing as many people as possible. Since then she has multiple podiums at elite track national championships, master track national championship titles and world cup finishes under her belt.
Jennifer, a Seattle native, joins the ALP Cycles Coaching with a background in road and track. Her experience as a USA ParaCycling team tandem pilot, part-time work at USA Cycling in the Coaching Education Department and love for all things cycling is a welcomed addition to the ALP Cycles Coaching team.
---