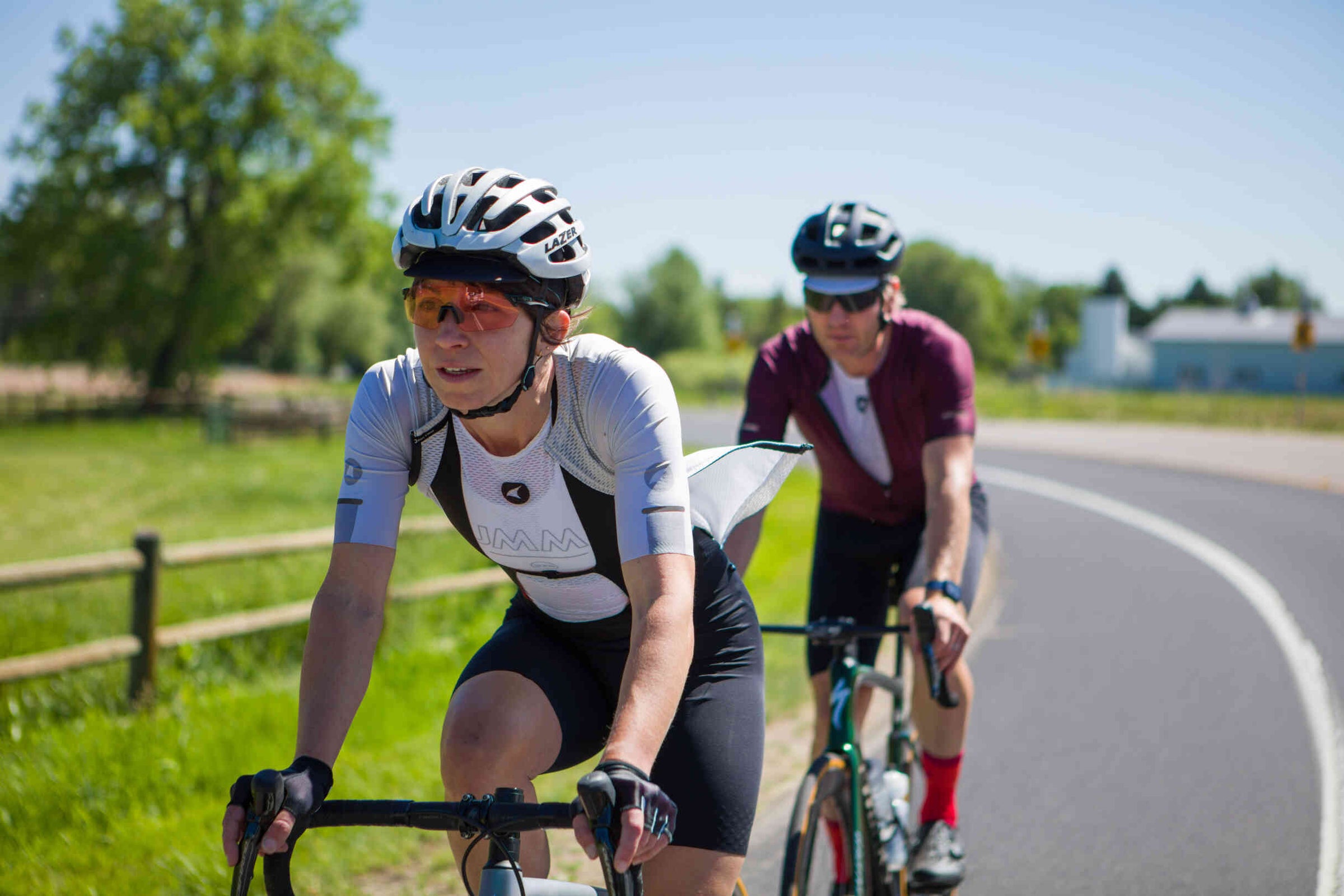 All About Cycling Base Layers
Base layers are one of those items you've seen on cycling apparel sites, but probably never thought about buying since you weren't sure exactly when or why to use one. Hopefully, this article will help you understand a little more about them, their purpose, and when they're best utilized.
What is a Base Layer?
Theoretically, a base layer is an "undershirt." It's the first layer of clothing you wear against your skin and is the "base" of your cycling outfit.
Why is it not just called an "undershirt?" Because that just wouldn't be cycling! It's the same reason that your seat is a "saddle" and your shirt is a "jersey."
What are Base Layers Made of?
Good quality base layers will be constructed from high-tech synthetic fabrics designed to wick sweat away from your body. Pactimo base layers are not only designed to wick sweat, but are woven with carbon fabric, which cools the body while also reducing odor.
Base layers made of cotton or other non-wicking fabrics should be avoided at all costs. Cotton will hold moisture near the body, making you feel clammy and increasing the incidence of rashes. Cotton, as a layer closest to your body, will make you hotter in hot weather and colder in cold weather.
When Should a Base Layer be Worn?
We are all accustomed to layering for cold weather situations. It's the most effective way to regulate body heat (or chill) in changing weather conditions. But, the truth of the matter is, layering in hot weather conditions is also a good practice, so long as the base layer has been designed to wick and cool. Therefore, a well-constructed cycling base layer can be worn on cold days, hot days, in summer or winter, when racing, training, or trail riding.
Base Layers for Cold Weather
Cold weather is probably the most common reason why cyclists opt to include a base layer. It provides an extra layer of insulation and pulls sweat from your skin, which will you dryer and warmer. That extra layer will also help hold warmth near the body.
Typically, winter or cold weather base layers will be engineered with man-made fabrics, such as the extremely stretchy and lightweight Dryarn®. Fabrics like Dryarn, found in our Thermoregulator base layers, are known for their low coefficient of heat dissipation, which prevents any unwanted loss of body heat and at the same time enables the rapid dissipation of excess heat via perspiration evaporation. Keeping the skin dry in cold weather conditions is key to retaining warmth and preventing hypothermic conditions.
Base Layers for Cold Weather
Polartec Alpha Direct® fabric has a fantastic warmth weight/volume ratio, making it the ideal choice for a winter weather base layer. Bonus that it is able to dry quickly and maintain insulative properties when wet. Pair this base layer under your favorite cold weather jacket for extra warmth and comfort. Rest assured, our efforts to reduce our carbon footprint have been carried out in the Alpha Core base layer, as this product is made from 100% recycled materials.
Base Layers for Hot Weather
Base layers can also be worn on warm and even hot days. Again, the high-tech fabric pulls sweat away from your skin while simultaneously creating an evaporative layer below your jersey. This helps the wearer maintain an optimum body temperature while remaining dry at the same time.
What sets apart our Summit base layer from all others is the use of woven Cocona particles from 37.5® Technology. These particles attract humidity and use your body heat to rapidly transfer perspiration to the exterior of the garment. This rapid moisture transfer ensures a regulated body temperature and can increase athletic performance by as much as 25%.
Other Benefits of Base Layers
Base Layers as a Compression Layer.
Besides keeping the body dry, and helping with temperature regulation, the tight fit of base layers creates compression which contributes to improved blood circulation. You may have seen professional cyclists before or after a race wearing compression socks or leggings. Many even wear compression socks when traveling. That's because the effects of compression layers has been proven to aid in blood flow, delay muscle fatigue, and increase performance (so much so that the UCI has banned compression socks from being worn while racing). A base layer can provide similar benefits through its tight fit and compression-like characteristics.
Base Layers and Road Rash
A base layer provides another layer of protection in the case of an accident or crash. Essentially, if you fall off your bike, your jersey will catch the asphalt, but your base layer will keep sliding within the jersey. It may not protect you from everything, like broken bones, but having an extra layer between your skin and the road isn't necessarily a bad thing!
Caring for Base Layers
Base layers, like all cycling apparel, should be washed after each use. Hand-washing with gentle detergents is the best way to care for them, but the delicate cycle in the washing machine is okay, so long as you hand dry. Putting cycling apparel in the dryer is never recommended. Drying technical fabrics used in base layers, jerseys, and shorts will bread down the protective coatings and integrity of the materials.
All About Cycling Base Layers
---