Below are five tips on how you can avoid gaining weight this holiday season and keep on track with your training.
by Jennifer Sharp, ALP Cycles Coaching
It's the holidays and your Aunt's green bean casserole just wouldn't taste the same without those fried crunchy onions on top. And she would never forgive you if you didn't heap a ton of it on your plate and eat every. single. bite.
Not to mention she brought those lemon bars especially for you even though you told her last year to please leave them at home. Temptations abound during the holiday season and even the strongest mind can cave after your will power is tempted one too many times. Below are five tips on how you can avoid gaining weight this holiday season and keep on track with your training.
1) Eat something beforehand. Have dinner plans with friends? Going to a holiday party? Headed out to dinner? By eating something healthy before you dine out, you'll set yourself up to not over eat and add on a bunch of unnecessary calories.
2) Eat slowly. This one is hard. Especially if you're eating with a bunch of cycling friends who scarf down their food. But the slower you eat, the quicker your mind tells your body that you're full. Try setting down your fork between bites or taking a sip of water after chewing your food completely. An added bonus of eating slowly and more mindfully is that food can actually taste better!
3) Eat more vegetables. Like brussel sprouts and green beans? Great! The more colorful food you can put on your plate, the better. And since vegetables tend to be lower in calories and high in fiber, you can fill up on the good stuff before heaping on super dense calorie foods (read desserts!). Just note – beware of dressings – though delicious tasting, they often are high in calories.
4) Drink water. And lots of it. If you are going to a function where alcohol is served, pace yourself by drinking a full glass of water before you drink a cocktail. Then if you have another, make sure you drink another glass of water between. Stop with two drinks and you'll be thankful you did the next day.
5) Use a smaller plate. The smaller the plate, the smaller the serving size. The smaller the serving size the less likely you are to over eat.
6) Bonus Tip – a high intensity trainer workout! We couldn't give you all of this eating advice without mentioning exercise! High intensity workouts are a great way to boost your metabolism and keep you burning fat after you've  completed your workout. Here's a bonus trainer workout to get you through the holiday temptations:
Duration: 1 hour, 25 minutes:
– Warmup for 15 minutes at less than 68% of FTP, or active recover to low endurance zones.
– Start with a 5 minute VERY HARD effort at 100% FTP, also known as lactate threshold.
– Rest and spin easy for 5 minutes (about 68% FTP), or easy endurance zone.
– Start 6 x 3 minutes at VO2 Max (117% of FTP) with 3 minutes of easy riding between intervals.
– Ride easy for 10 minutes at about 68% FTP.
– Start 4 x 2 minutes at VO2 Max (113-120% of FTP) with 4 minutes easy riding between intervals.
– Then cool down for 10 minutes, riding easy.
Now what are your favorite holiday eating tips or hard trainer rides?
Happy training!
. . . . . . . . . . . . . . . .
ABOUT JENNIFER SHARP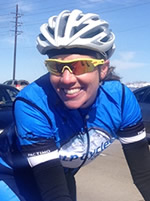 Jennifer Sharp, a USA Cycling Level 1 Coach, started racing in 2004 as a means to fulfill her competitive itch. Previously a national level boxer, she grew tired of getting hit in the head and decided to pound the pedals instead. She bought a pink Kona road bike completing several recreational rides and found herself passing as many people as possible. Since then she has multiple podiums at elite track national championships, master track national championship titles and world cup finishes under her belt.
Jennifer, a Seattle native, joins the ALP Cycles Coaching with a background in road and track. Her experience as a USA ParaCycling team tandem pilot, part-time work at USA Cycling in the Coaching Education Department and love for all things cycling is a welcomed addition to the ALP Cycles Coaching team.
About ALP Cycles Coaching
ALP Cycles Coaching is located in the mountains of Colorado, and is a cycling coaching company with over 25 years of professional sports experience. ALP Cycles Coaching is unique in that we have 4 coaches, Alison Powers, Jennifer Triplett, and Patricia Schwager who each brings her own coaching strengths and personal experiences. We work together to create a training plan that works for each and every person. Visit them online at http://alpcyclescoaching.com
---