"...now is a great time to check in with your goals for 2019 and beyond."
By: Jennifer Sharp, ALP Cycles Coaching
Got the winter time blues? As the winter solstice approaches, it may seem like FOREVER until the warm summer months. Whether you're finishing up cyclocross this week at Nationals or completed a full road race season and in the midst of some serious winter base miles, now is a great time to check in with your goals for 2019 and beyond. 
As a coach, I'm frequently asked by those new to the sport: how do I know which races to target?
I recommend doing a season end review if you haven't already. Which races brought you joy? What courses did you love and which ones did you struggle with? Take an honest inventory of the races you completed in 2018 and see which ones you're already looking forward to in 2019. If this is your first season - the world is your oyster! Try as many different types of races you can to get a feel for what your preferences are.
 Once you've narrowed down which races you'd like to do, pick a couple of target races you'd like to focus on. Whether that be a national, regional or local event - figure out where it is on the calendar and start working backwards. If you know you'd like to target the Colorado Classic for example, you'll want to figure out the demands of the race. You'll want to peak for late August, and chances are it's going to be a hilly route and at altitude. What terrain will the race encounter? What kind of competition will show up? How can you best prepare for it? And what kind of races can you do in preparation for it? By doing your homework early, you can figure out what kind of training and races that will help you best prepare for those target events.
When picking target races for the season, this is a great opportunity to take inventory of your strengths and weaknesses. How does your targeted race align with your talents? What can you do during the off season to sharpen your strengths and lessen your weaknesses? Getting a good bike fit, building strength and flexibility in the gym as well as working your mental game can pay big dividends come race season.
Approaching your next season can seem overwhelming - there are a lot of factors to consider! This is where a good coach can help - someone who can look at the big picture and guide you in a designing solid training plan that will help you accomplish your cycling goals.
Still unsure of where to go from here? Contact an ALP Cycles Coach today and we can help you take the guess work out of navigating a race season.
. . . . . . . . . . . . . . . . . . . . . . . . . . . . 
ABOUT JENNIFER SHARP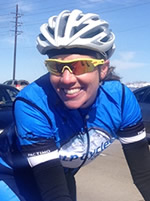 Jennifer Sharp, a USA Cycling Level 1 Coach, started racing in 2004 as a means to fulfill her competitive itch. Previously a national level boxer, she grew tired of getting hit in the head and decided to pound the pedals instead. She bought a pink Kona road bike completing several recreational rides and found herself passing as many people as possible. Since then she has multiple podiums at elite track national championships, master track national championship titles and world cup finishes under her belt.
Jennifer, a Seattle native, joins the ALP Cycles Coaching with a background in road and track. Her experience as a USA ParaCycling team tandem pilot, part-time work at USA Cycling in the Coaching Education Department and love for all things cycling is a welcomed addition to the ALP Cycles Coaching team.
About ALP Cycles Coaching
ALP Cycles Coaching is located in the mountains of Colorado, and is a cycling coaching company with over 25 years of professional sports experience. ALP Cycles Coaching is unique in that we have 4 coaches, Alison Powers, Jennifer Triplett, and Patricia Schwager who each brings her own coaching strengths and personal experiences. We work together to create a training plan that works for each and every person. Visit them online at http://alpcyclescoaching.com
---